NovEx Performance Analytics
NovEx Performance Analytics (NPA) refers to the quantitative and qualitative techniques that make a learner's clinical performance in our virtual simulated patient situations visible. NPA gives unprecedented access and insight into the clinical thinking and judgment of learners by providing the number and sequence of assessments of the patient, interventions to care for the patient, and evaluation of patient's responses. Using NovEx and its analytics, Educators can "see" and understand how each learner implements "care" of and for the authentic NovEx patients.
Where the Data Comes From
The data in the Educator's NPA account are generated from each of their NovEx learner accounts. No other program provides the insights that are possible using NovEx programs. The data include:

Identity Source data which informs about who the learners is, when and how often the learner worked on clinical problem-solving, and how much time they invested in learning.

Content data which informs about the behavior of the learners while using the site. This includes each test case, narrative, lesson, and practice case that the learner looks at and how they interact with the content.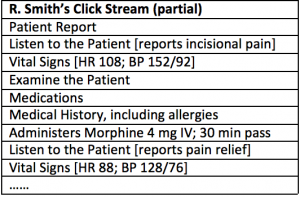 Click Stream Data which enables detailed tracking of every meaningful click made by the learner. This includes the learner's assessment, clinical thinking, reasoning, judgment, and evaluation process within each NovE-Case. These data help Educators to pinpoint and coach learners to improve critical gaps or habits in assessments; missteps in clinical thinking; incorrect or poorly prioritized judgment in care; and evaluation (or lack of evaluation) of salient patient responses to interventions. 
What is NovEx Performance Data (NPA) and What Information can You Derive from Using NPA?
View the learner's clinical thinking and reasoning when problem-solving patient situations.

View the learner's ability to recognize and/or intervene in urgent situations.

View the learner's assessment path in problem-solving a challenging patient situation.

View the specific and the overall safety in practice of learners or groups of learners (e.g., whether they check the patient's allergies prior to administering medications like antibiotics, if they are administering potentially dangerous medications IV push, etc)

AND MUCH MORE….
For more information and a demonstration regarding NPA please contact NovEx by using the "CONTACT" page. 
Turn Raw Data into Actionable Information